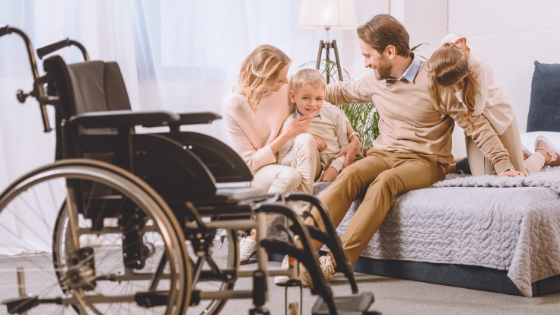 In the U.S., Social Security disability insurance (SSDI) benefits are typically only available to qualifying adults with a work history. In order to qualify for these benefits, disabled adults must have worked and paid into the system. They must accrue a specific number of work credits to qualify. However, children whose parents are disabled, retired, or deceased may also be able to collect benefits.

In 2017 alone, the Social Security Administration paid an average of $2.6 billion each month to more than 4.2 million qualifying children. This money helps children complete high school and pays for food and shelter. When a parent becomes disabled or suddenly passes away, Social Security benefits can help keep the family afloat and provide a vital income for these children.

In order to collect child benefits, you will need to provide the SSA with the child's birth certificate and Social Security number. You will also need to provide the parent's Social Security number. If you are applying for survivor benefits, the SSA will also ask you to provide proof of the parent's death. If you are applying for benefits for a disabled child, you will need to provide qualifying medical evidence of disability.
How can dependent children collect SSDI benefits?
Children can collect dependent benefits if they meet the following criteria:


Are not married
Are younger than 18 or 18-19 and a full-time high school student
Have a parent that is disabled or retired and receiving Social Security benefits
Have a parent that has died and was entitled to receive Social Security benefits
Does your disabled adult child qualify for SSDI?
Your SSDI lawyer will review your disabled child's case to help determine if he or she is eligible for benefits. If you are receiving Social Security benefits then your adult disabled child can collect under your dependent benefits or auxiliary benefits. To qualify as a disabled adult child, your child must meet certain criteria, including:


Not be married
Be over the age of 18 with a disability that began before the age of 22
Have a parent that is disabled or retired and receiving Social Security benefits
Have a parent that has died and was entitled to receive Social Security benefits
If you are not receiving Social Security benefits, then your disabled adult child may still qualify for SSDI benefits on their own earnings history, if they have worked and earned the necessary credits. To qualify your attorney will determine if they meet these two criteria:


Have a qualifying disability that has lasted for 12 months or more or is expected to last for at least 12 months
Have an impairment that makes it impossible to perform substantial work
The Social Security Administration publishes medical impairment lists and criteria that your attorney will review to determine if your disabled adult child is eligible to collect SSDI benefits.

Parents of disabled adult children may be able to help their child collect SSDI benefits with the right legal assistance. An experienced Virginia Social Security disability lawyer can help your child collect all of the benefits he or she is entitled to.


How Much Can Your Family Receive?
In a family, a child could receive up to 50 percent of the parent's full disability benefit. Survivor benefit recipients may receive up to 75 percent of their parent's Social Security benefit. There is a limit to the amount of money a family can receive in Social Security benefits. This limit is often between 150 and 180 percent of the parent's full benefit. If multiple family members collect benefits, then the amount payable to each family member may be reduced to equal the maximum allowable amount.

Want to learn more? Download the Beginner's Road Map to SSDI
Contact Our Virginia Social Security Disability Law Firm Today
If you have questions about children and SSDI benefits, we can help. Our Virginia SSDI lawyers only work on Social Security Disability claims. This is why so many individuals and their families turn to us to help them through the disability application and/or appeals process.
Contact Cervoni Disability Law PLLC for a free consultation at 703-241-2625 or email us. You can also visit our website at or follow us on Facebook, Twitter, and LinkedIn.