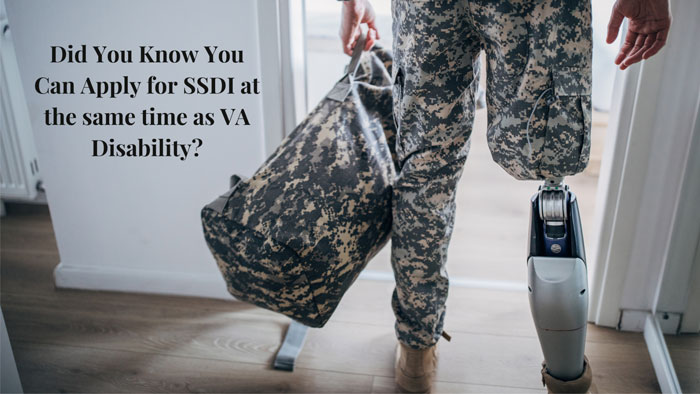 November is Military Family Appreciation Month. It is a time when we honor, recognize and show our gratitude for those who bravely served our country. It is important to remember the unique sacrifices and challenges Veterans faced and still face each day.
We are here to help Veterans by making sure they receive all the benefits they deserve.
If you're a Veteran, you may wonder whether you can legally collect Social Security Disability benefits while you are receiving VA disability benefits. The answer is yes.
Surprisingly it is not all that uncommon for Veterans to receive both SSDI and VA disability benefits at the same time if they qualify.
According to the U.S. Census Bureau, in August 2020, 4.7 million Veterans had a service-connected disability. If you are a disabled Veteran we want to make sure you don't miss out on the possible advantages of receiving both benefits at the same time.
Supplemental Income; Advantages For Veterans Applying For SSDI
While already having Veterans benefits may help you obtain SSDI, Social Security Disability approval does not necessarily help you obtain Veterans benefits.
SSDI benefits are available to Veterans who have a disability and meet the SSDI eligibility requirements. We have had clients in dire financial situations that need to get approved for the additional supplemental benefits from SSDI.
It is rewarding when we help Veterans get approved for SSDI because, for many of them, it is life-saving to receive necessary additional funding.
Some advantages for Veterans with VA benefits applying for Social Security Disability include:
Expedited applications for military service members

You may receive your benefits decision within weeks of your application, rather than the typical months or year or more

Continued VA benefits or other military pay which does not affect SSDI eligibility

Higher chance of qualification

Simultaneous Medicare and TRICARE medical benefits

Discharge status is not a factor in determining Social Security benefits

The disability does NOT need to be connected to military service



The best choice you can make is to speak to a knowledgeable SSDI attorney who can help you through the complex government mazes, assisting you in getting the compensation you are entitled to receive.
How We Can Help You Obtain SSDI Benefits
If you suffer from a medical condition that prevents you from working in Virginia, DC, or Maryland, call to speak with a Social Security disability attorney at Cervoni Disability Law, PLLC.
We can evaluate your eligibility for Social Security Disability Insurance (SSDI) benefits and help you with the initial application process.
If you already submitted an application that was denied, we can help you with an appeal to significantly improve your chances of being approved.
Some benefits to working with us include:
No travel to our office is necessary

We can help obtain all required evidence

We work closely with your doctors

No money upfront – we don't receive a legal fee unless you win

We can get the opinions of medical and vocational experts

We build as strong a case as possible for a favorable outcome

You will have a dedicated case manager to coordinate all aspects of your case



Contact Our Virginia Social Security Disability Law Firm Today
If you or someone you know is already receiving VA benefits, we can help them get through the application process when you seek eligibility for SSDI.
Reach out to us for a free consultation by calling 703-241-2625 or emailing us at info@cervonidisabilitylaw.com.
Download our Beginner's Road Map to SSDI for more information.