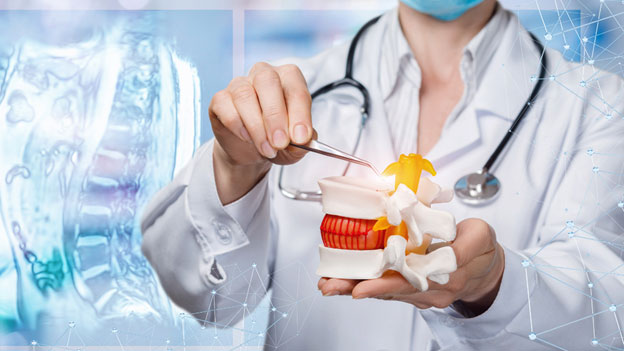 If you have a physically-demanding job, then getting a cervical or lumbar herniated disc, or developing degenerative disc disease, can leave you sidelined and incapable of working for a year or more. Your condition may even be so serious that you can no longer perform the job you've been doing your entire adult life.
If you found out today that because of an unexpected health issue, you could never go back to your job again, what would you do? How would you pay your rent or mortgage, put food on your table, and pay your monthly bills if you weren't able to bring a paycheck home?
The federal government recognizes that millions of Americans suffer from medical conditions that make them incapable of working anymore. The Social Security Administration (SSA) manages the Social Security Disability Insurance (SSDI) program. Americans who apply for and are approved for monthly SSDI checks see this income as a lifeline. These monthly checks help you put a roof over your head, buy groceries, and keep your electricity and other utility payments current.
But how do you apply for SSDI benefits if you have a cervical or lumbar herniated disc, or develop degenerative disc disease? Keep reading as our SSDI law firm explains the process to you.
Criteria Everyone Applying for SSDI Must Meet
Regardless of the health condition that is making it impossible for you to work, all Americans who apply for SSDI must meet the following criteria:
Your medical condition must make you incapable of doing the work you used to do.

You can't transfer to a new line of work.

Your medical condition is expected to last at least one year or result in your death.



If you meet these criteria, you can apply for SSDI. But be aware that doing so is a lengthy process with lots of paperwork, and many people who apply on their own are denied on their first attempt. Applying with the help of an SSDI attorney can greatly increase the odds of success on the first attempt..
How to Prove You're Legally Disabled if You Have a Herniated Disc
Even if you have a herniated disc, you still have to go through extra steps in order to convince the SSA that you are legally disabled. According to their Blue Book of disabilities, which lists the medical criteria you must meet for each disability that qualifies for SSDI benefits, American workers with herniated discs must show that they are experiencing one of the following three conditions:
A compromised nerve root or spinal cord.

Distributed pain that limits spinal motion and/or causes motor loss due to the atrophy of unused muscles.

Sensory or reflex loss which results in limited leg motion, as determined by having a physician perform a straight-leg raising test.



Whichever one of these conditions you have must be documented through medical records that you submit to the SSA.
How to Prove You Are Legally Disabled if You Have Degenerative Disc Disease
Having a degenerative disc disease, such as facet joint arthritis, isn't enough to qualify you to receive monthly SSDI checks. Instead, you must prove that your case of degenerative disc disease also causes one of the following medical conditions:
Nerve root compression.

Spinal arachnoiditis

Lumbar spinal stenosis



Just as with a herniated disc, evidence of the condition you have must be supported by your medical records.
Appealing an SSDI Claim Denial
Everyone who is denied SSDI has the right to an appeal. As an SSDI law firm, we can help you file that appeal by collecting all required medical data, documenting your personal testimony about how your medical condition is preventing you from doing any work, and if necessary, presenting your case in front of an Administrative Law Judge.
Denied SSDI? We Can Help
If you were denied SSDI, we can offer you a free case evaluation and if we believe you should be awarded benefits, represent you and file an appeal without you paying any up-front fees. In fact, we work on your case and only get paid after you win benefits. Even then, we never take any amount of your monthly disability checks. We only get paid from a portion of the backpay that the government owes you.
For help filing an SSDI claim or appealing a denial, call us today at (703) 241-2625.