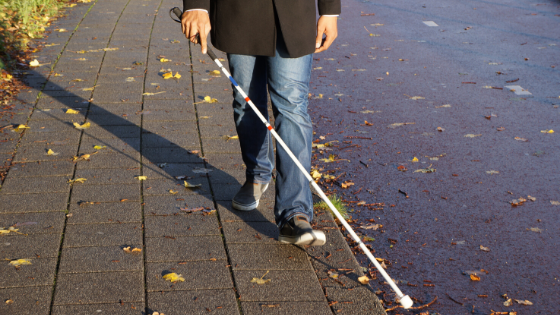 According to the CDC, about three percent of Americans who are 40 years old or older are either legally blind or are visually impaired. About twenty-one million Americans report functional vision problems or eye conditions. These conditions can significantly compromise vision. If you are legally or statutorily blind, you may qualify for SSDI benefits. If you have suffered vision loss, it is important to know that the Social Security Administration looks at vision loss a bit differently than other types of disabilities.
The rules are different for those with visual impairments. This is because the visually impaired person typically experiences ongoing adaptive living expenses as a working adult. These include home modifications, expensive technologies to perform essential job duties and live independently, the expenses for a service animal, and even the costs of transportation. For those who lose their sight later in life, surgical procedures, medications, and other treatment methods may be implemented, resulting in astronomical medical costs.
Substantial Gainful Activity Levels for the Visually Impaired
The financial limits for those with a visual impairment are significantly different than for those with another type of disability. A claimant who has a qualified visual impairment can earn up to $2,110 per month, while a claimant with another type of disability is only allowed to earn up to $1,260 while performing substantial gainful activity (SGA).
After completing a trial work period, a visually impaired person can earn as much as SGA, while keeping monthly disability benefits (SGA changes from year to year, based on inflation and the cost of living). For a person who is self-employed, the time spent working in their own business will not be evaluated in the same way as it would for another disabled person who does not have a visual impairment.
A person who has their own business and is considered disabled may not continue to receive disability benefits if they work more than 45 hours in a single month. For the visually impaired, that number increases to 80 hours per month, so long as the net profits for the business do not exceed $2,040 per month.
Qualifying for Disability Benefits with a Visual Impairment
To qualify for disability benefits with a visual impairment, you must meet one of the following criteria:
You must have a loss in your central field of vision and must see no better than 20/200 in your
better eye; or
You must have a shrinking field of vision in your better eye; or
You must have blurry vision, unfocused vision, or total blindness, along with vision in your better eye that is no better than 20/200 with corrective lenses.
Returning to Work
If you are receiving disability benefits due to a visual impairment, you may want to try to return to work. Every sixty months, disabled workers are granted a trial work period of nine months, which allows you (and the SSA) to determine whether your condition has improved sufficiently to allow you to return to work full time (these nine months do not have to be consecutive).
Your disability benefits are not in jeopardy during this trial period, however, you must be sure to report your work activity, your earnings, and your expenses to the SSA. For any month in which you did not earn more than $2,040, you can still receive disability benefits, and for any month in which you earned more than $2,040, you will not receive your disability benefits for that particular month.
Discuss Your Visual Impairment with a Social Security Disability Attorney
It is important that you discuss your visual impairment with a highly qualified Social Security Disability Attorney who can help you obtain benefits.
If you have questions about visual impairments and SSDI benefits, we can help. Our Virginia SSDI lawyers only work on Social Security Disability claims. It is why so many individuals and their families turn to us to help them through the disability application and/or appeals process. Call us at 703-241-2625 or email us at info@cervonidisabilitylaw.com. You can also follow us on Facebook, Twitter, Google Plus and LinkedIn.