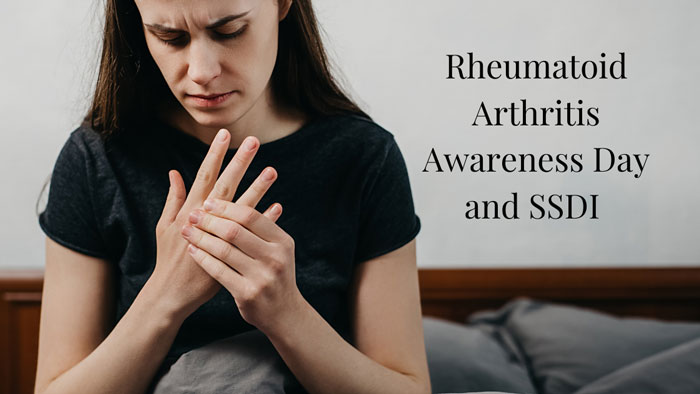 Rheumatoid Arthritis Awareness Day takes place in February each year.
Rheumatoid Arthritis Awareness Day was created in 2013 by the Rheumatoid Patient Foundation (RPF) to raise awareness for people who function daily with pain and misconceptions about rheumatoid arthritis.
Every February we do our best to raise awareness about this debilitating disease. We hope this blog helps you, a friend, a family member, or anyone who has been disabled by this disease to get the help they need.
What is Rheumatoid Arthritis?
Rheumatoid arthritis (RA) is an autoimmune disease, which means that your immune system attacks healthy cells in your body by mistake. This time, it causes inflammation in the affected parts of the body, particularly the joints.
Rheumatoid arthritis causes pain, swelling, stiffness, and loss of function in your joints, usually in the wrist and fingers. It can also affect other tissue throughout the body and cause problems in the organs, such as the lungs, hearts, and eyes.
Rheumatoid arthritis is common among women, those between the ages of 40-60, smokers, and those with a family history of the disease. According to the Arthritis Foundation, 1.5 million people in America live with rheumatoid arthritis, and 70% of that population are women.
How does Rheumatoid Arthritis Affect Daily Life?
While mild or moderate rheumatoid arthritis can make things more challenging for some, the symptoms can make it so difficult for others that they are forced to stop working. One study found that those with early rheumatoid arthritis show that 20-30% become permanently disabled during their first 2-3 years of the disease.
What Happens Next?
The symptoms of your rheumatoid arthritis have to be severe enough for you to be eligible for Social Security disability benefits. Not only do the symptoms of rheumatoid arthritis have to be severe enough to prevent you from performing your current job, but they also have to be severe enough to stop you from performing any job.
If you or a loved one's symptoms are this severe, here are the following steps to help you receive benefits.
1.
Speak with a rheumatologist for an exam.
If your rheumatoid arthritis has stopped you from working, you might be eligible for SSDI benefits.
As part of the SSDI application process, your rheumatologist must provide a large amount of evidence through X-rays, MRIs, bloodwork, and clinical exam results. The SSA will also need a history of medications and therapies you have tried. You will also need to provide results and your medical history that shows how long you have had rheumatoid arthritis and how the disease has progressed over time.
Any other information that will help support your claim for SSDI can make your case with SSA. Examples of this information could include photos of affected body parts, a physical capacities evaluation from a physical therapist or vocational specialist, or an extensive log you keep regarding your ability to do the physical tasks associated with your job.
2.
Work with an experienced disability attorney.
Whether you are just starting the process or are making an appeal, an experienced disability attorney will help you through your case for benefits. Attorneys who work with SSDI cases regularly usually know the judges and adjudicators in the system, improving your chances of a successful claim.
How Can We Help You?
Having an experienced Social Security disability lawyer can help you make a difference in your case. We work to help our clients collect the disability benefits they need and deserve.
If you have rheumatoid arthritis that prevents you from working, contact us for a free consultation at 703-241-2625 or email us at info@cervonidisabilitylaw.com. We can help you through this complex process and ensure that you receive the benefits you are entitled to.