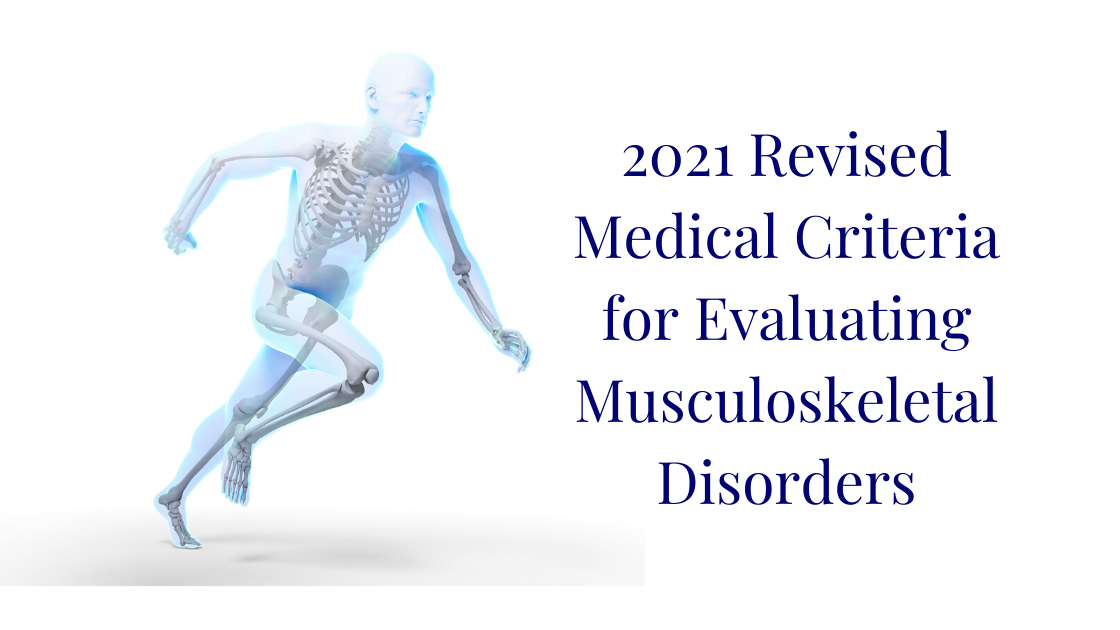 The new medical criteria for evaluating musculoskeletal disorders are now in effect. The new listings contain specific criteria for evaluating the effects of musculoskeletal disorders on functioning. They also seek to resolve inconsistencies in policy applications that made it confusing for disabled Americans to get the benefits they deserved.
The Listing of Impairments describes medical conditions that are severe enough to be listed as disabled and unable to perform any gainful activity. This helps expedite claims by giving applicants a clear path towards approval. The new criteria aim to increase consistency, clarity, and equity in helping determine disability.
How are Functional Criteria for Musculoskeletal Disorders Evaluated Under the New Rule?



The new functional criteria for evaluating musculoskeletal disorders are:
A documented need for an assisted device that requires the use of both hands. This includes walkers, two canes, or crutches, or

Inability to use one upper extremity to complete work-related activities, requiring the need for a one-handed assisted device, or

An inability to use both upper extremities to complete work-related activities.
The new criteria include the need for a wheeled and seated mobility device (WSMD). This was added to the functional criteria after considering the fact that individuals who use such devices are often not able to perform work-related activities properly. When evaluating one-handed WSMDs, they will consider the most restrictive assistance device first. Therefore, if the claimant has a need for a WSMD and a walker, they will consider the walker first. This increases the likelihood of approval.
What Types of Evidence Do You Need for One-Handed WSMD Devices?
What about one-handed WSMD devices? The medical record should already contain the evidence needed to support this. However, some of the evidence that can help your claim gain approval includes:
Inability to bear weight on lower extremities

Instability

Not able to rise from seated position without assistance

Significant weakness in legs

Amputation of a lower extremity without ability to use a prosthesis
Benefits of the New Criteria
There are many benefits of the new criteria to claimants. The new criteria reduce the burden on claimants by providing flexibility when evaluating musculoskeletal disorders. The use of WSMD or assisted devices plays a heavy role in helping to prove the disability and meet the requirements. This reduces the time it will take to process disability claims, further expediting the process for truly disabled individuals.
Types of Musculoskeletal Cases We Handle
The types of musculoskeletal cases we handle will likely be affected by this new criteria. Therefore, if your previous claim was denied, we urge you to contact our law firm for an evaluation under the new criteria. This includes individuals with:
Disorders of the skeletal spine resulting in compromise of nerve root

Reconstructive surgery or surgical arthrodesis of a major weight-bearing joint

Abnormality of any major joint in any extremity

Amputation due to any cause

Pathological fractures

Spinal stenosis

Soft tissue injury under continuing surgical management

Non-healing complex fractures
Contact Me for Help in Your SSDI Case
When determining disability benefits, the SSA will want to review as much evidence as possible regarding your musculoskeletal disorders. Our lawyers understand disability law, and we know what it takes to prove eligibility for SSDI benefits. We can help you through the application and appeals process to ensure that you receive the benefits you deserve. Even if you received a claim denial, we can help. I can help you with your SSDI application or appeal. Contact me at 703.241.2625 to set up an appointment and begin getting the help you need.