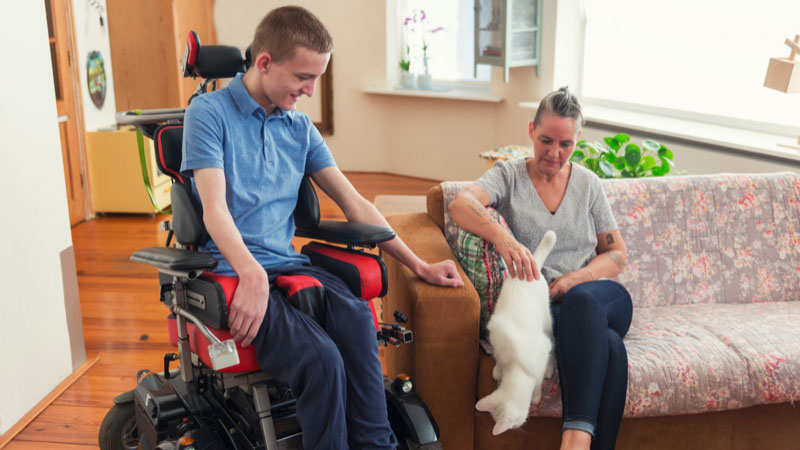 Cerebral palsy (CP) is the most common motor disability in childhood and affects an estimated 1 in 345 children in the United States. This disability is present from birth and can drastically affect the child's entire life. Disabilities and impairments range drastically depending on the severity of CP. However, according to the CDC, 41% of children with CP were limited in their ability to crawl, walk, and run. In addition, 31% of children with CP needed the use of special equipment such as walkers or wheelchairs.
Medical costs for children with cerebral palsy are 10x higher than for children without CP. For children who suffer both CP and an intellectual disability, medical costs are 26x higher than children without those disabilities. It is estimated that families will need more than $1 million to provide care for an individual with CP.
Families who must care for a loved one with CP may wonder if they can collect disability benefits for a child under 18. If you are an adult with CP, you may need to qualify for SSDI. The SSA awards disability benefits to individuals who have a qualifying injury or illness that prevents them from working. This can also include children under the age of 18. But do you know how to get it?

Unfortunately, the process for collecting SSDI and SSI is difficult. For this reason, you must have your SSDI or SSI claim evaluated by an experienced Social Security Disability lawyer immediately. Families or individuals with CP should explore all their legal options to obtain the money and benefits they deserve.
Collecting SSI For a Child With Cerebral Palsy
Cerebral palsy can adversely affect a child's entire life. Children who suffer from serious impairments may qualify for Supplemental Security Income (SSI). To qualify, your child must have serious limitations on their ability to walk or communicate. Also, you and your family cannot make over the SSI income limits or own too many assets.
Mild CP will not typically qualify for SSI. The SSA sets the requirements for disability benefits for children with CP in listing 111.07. To qualify your child must have major problems with two extremities. These problems must cause serious impairments and prevent the child from walking, standing, balancing, or using their arms effectively. If your child can walk with a cane, they typically will not qualify for SSI. However, a child who must use a walker or a wheelchair might qualify.
Collecting SSDI As An Adult With Cerebral Palsy
The SSA requirements for disability benefits for cerebral palsy are outlined in listing 11.07. Eligibility is granted if you have:
Disorganization of motor function in two extremities that result in an extreme limitation, OR

Marked limitation in physical functioning and in one other area, such as:

Understanding or applying information

Interacting with others

Concentrating

Adapting or managing self
OR
Significant interference in communication due to speech, hearing, or visual impairments.



If you don't qualify for disability benefits under those listings, the SSA will consider how your CP impacts your ability to perform routine daily activities and work.
If you are found to be medically eligible for benefits, the SSA grants immediate disability benefits. These are known as presumptive disability payments. This allows you to get the benefits you need quickly, while the SSA reviews your case.
An SSDI Lawyer Can Help
If you have CP, you may qualify for SSDI or SSI. However, collecting these benefits is not always easy. You need a law firm on your side that can work through the process and collect the evidence and documents the SSA needs to approve your claim.
Even if your initial claim was denied by the SSA, we can help. Our attorneys will work tirelessly to help you collect the money and benefits you deserve.
Contact Me for Help in Your SSDI Case
When evaluating your case and determining disability benefits, the SSA will review more factors than just your cerebral palsy disabilities. Our lawyers understand disability law, and it shows. We can help you through the application and appeals process to ensure that you receive the benefits you deserve. at every phase of the process. I can help you with your SSDI application or appeal. Contact me at 703.241.2625 to set up an appointment and begin getting the help you need.