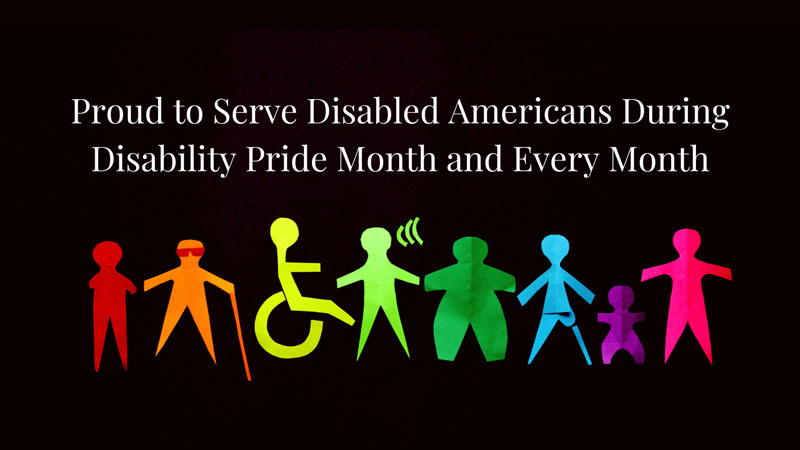 July is Disability Pride Month, a time to celebrate the accomplishments, contributions, and inclusion of people with disabilities. Here are two dates to remember this month:
First, July 14 is Disability Awareness Day. This day is a chance to learn and share more about what it means to be a disabled American and how we can help those with disabilities.
Second, July 26 is the 31st anniversary of the Americans with Disabilities Act. This landmark law provides equal opportunities for those with disabilities and ensures they have access to the same rights and resources as everyone else.
Both dates are significant opportunities to reflect on the progress made for people with disabilities and recommit to furthering inclusion and equality. Understanding how disabilities affect Americans daily is essential, especially with these dates in mind.
What It Means to be a Disabled American
Americans with disabilities face many challenges. They may have difficulty finding a job, accessing public transportation, or even getting basic needs like healthcare. Despite these challenges, disabled Americans continue to fight for their rights and equal opportunities.
But disability is a huge part of American society. More than 61 million people with disabilities are living in the United States today; that is 1 in 4 adults.
According to the CDC, a disability is "any condition of the body or mind that makes it more difficult for the person with the condition to do certain activities and interact with the world around them."
Disabilities can be progressive, static, or intermittent. Conditions of disability can be any of these:
Present at birth and affect functions later in life.

Developmental conditions that become known during childhood.

Related to an injury.

Correlated with a

long standing



Disability Definitions to the SSA
According to the Social Security Administration (SSA), disability is viewed as the inability to engage in any substantial gainful activity by reason of a medically determinable physical or mental impairment(s). These impairments can be expected to result in death, have lasted, or can be expected to last a year.
If you suffer from a medical condition and cannot work, you may be eligible for Social Security Disability Insurance (SSDI) or Supplemental Security Income (SSI) benefits.
To receive SSDI or SSI, you must suffer from an injury or illness that is terminal or has lasted or can be expected to last at least 12 months. You must also have a qualifying ailment or disability described by the SSA.
The person filing the claim is responsible for proving that they are disabled and cannot work for at least a year. You cannot claim you are unable to work but must prove it by submitting medically acceptable evidence to the SSA.
How We Can Help
The Social Security Administration is often daunting, especially if your health has been suffering. While hiring an attorney specializing in Social Security disability cases is not necessary, you will likely find it very helpful.
A Social Security disability attorney is experienced in dealing with the SSA. As a result, they are skilled at handling the various issues that may arise throughout the application process.
Let Us Help You
SSDI benefits are vital resources for many Americans with disabilities. Unfortunately, the process can be tough to navigate on your own.
That's why it's important to have experienced attorneys by your side. Our Virginia SSDI lawyers specialize in helping people with disabilities fight for the money they deserve.
Call us today at 703-241 2625 or email info@cervonidisabilitylaw.com for a free consultation!